Indoor Cycling Classes In Dublin, CA
Want to try an indoor cycling class in Dublin for free? Get ready to spin those pedals!
Let's do this! The hottest indoor cycling classes in the Tri-Valley!
Our cycling studio is out of this world.
Fitness 19 Dublin's high-energy cycling classes will help you burn fat, improve your endurance and have FUN.
All experience levels welcome. Don't worry if you're a first time rider, our friendly instructors will help you set up your bike and teach you the ropes. Everyone here gets a great workout!
Fitness 19 Dublin is the best place in town to take a cycling class! Make sure to sign up for a free pass below.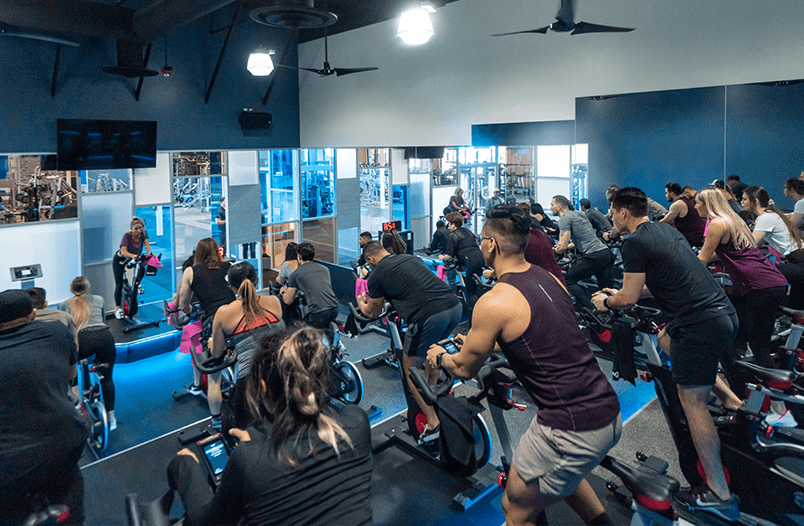 Lights, Music, Sweat
It's time to spin to the beat of the music with an upbeat, high intensity, low impact workout that will have you sweating AND having fun. During your cycling class, our instructors, upbeat music and epic lighting will keep you motivated throughout the entire class. All experience levels welcome - including first timers!
Burn a bazillion calories
Okay, so maybe not a bazillion (is that even a real number?), but in our indoor cycling classes you will be burning calories while improving your cardiovascular health and most importantly having fun.
Insanely fun
Indoor cycling class is not just about having a great workout, which we guarantee, it's about turning off the outside world, letting loose, and having fun!
Drop a beat!
Our custom curated playlists get you PUMPED and ready to work. The energy is infectious, the instructor is motivating, you're spinning those pedals, you're in the zone, you're laughing, you're sweating, you may not know what's going on but you don't care because it's such a great workout!
Easy set up
Our state-of-the-art stationary bikes are easy to adjust for all body types. First time riding? No problem! Our friendly instructors are here to help.
All about the ambiance
Our cycling rooms are stacked with great lighting that's easy on the eyes and will help you get in the zone.
All levels welcome
Cycle class is geared towards all levels of fitness, from beginners to very experienced riders. Our friendly instructors will help you get set up and learn the ropes!
Find a Indoor Cycling Class Near You
Select your Fitness 19 location below and sort by class type, instructor and time.
You can reserve a spot in class up to 72 hours in advance!
What riders are saying
I love my cycle class family! Great energy.
I look forward to spinning every week. I had never taken a cycle class before and now I love it.
An amazing workout and low impact on my knees, what more could I ask for? The instructors are so nice and welcoming.
Frequently Asked Questions
Which membership types include indoor cycling?
Premium and Premium Plus members have access to all group fitness classes, including indoor cycling classes. Have a Basic membership and are thinking about upgrading? Ask a front desk staff to try out a class!
Can beginners take indoor cycling classes?
Of course! Cycle class is geared towards all levels of fitness, from beginners to very experienced riders. Our friendly instructors will help you get set up and learn the ropes!
What do I need to bring to class?
All you need to bring is a towel (time to sweat) and a water bottle. We will prove the bike, energy, and encouragement!
Do I need special cycling shoes?
No! Special cycling shoes are not necessary, any athletic shoe or flat soled shoe will do. If you find you love cycling, clip in cycling shoes can improve your experience but are not necessary.
How high should my seat be?
Seat adjustments are best done by an instructor. Just ask your Fitness 19 cycling instructor to help you out. A great rule of thumb is that the seat should be hip high when you stand next to your exercise bike.
Can I reserve a specific bike?
Unfortunately, we do not offer specific bike reservation. We are currently working on a Fitness 19 app which will allow you to reserve a specific bike during the reservation process.
Want to know more about classes at Fitness 19?
Check out our amazing fitness blog.