HydroMassage
Time for a little "Me Time." Chill out on the HydroMassage lounger at Fitness 19 for active recovery and relaxation.
Time for some "Me Time"
HydroMassage is the perfect tool for muscle recovery
Experience the benefits of HydroMassage at Fitness 19. This water massage chair is the perfect tool for muscle recovery, relaxation, increasing circulation, reducing stress and anxiety, and providing temporary relief form minor aches and pains.

Available at select locations for Premium and Premium Plus members. CLICK HERE to find a Fitness 19 location near you with HydroMassage!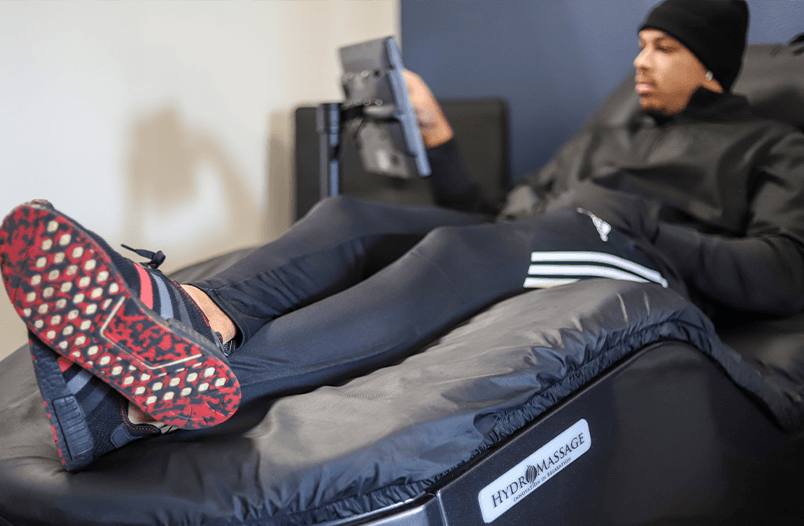 What members are saying
I can't live without the HydroMassage! I use it after every workout .
So relaxing, wish I could have one in my house!
Has helped my stiff back tremendously. Would highly recommend.
Frequently Asked Questions
Which membership types at Fitness 19 gets access to HydroMassage?
Premium and Premium Plus Fitness 19 members have daily access to HydroMassage.
How long does a session on a HydroMassage chair last?
A HydroMassage session at Fitness 19 will last between 5-10 minutes. Enjoy!
Is HydroMassage good for muscle recovery after workout?
HydroMassage is perfect for a post-workout muscle recovery session. Let the hydro jets loosen tight muscle. HydroMassage can also relieve small aches and pains associated with muscle soreness.
What are the benefits of HydroMassage
HydroMassage can help with the following:
HydroMassage can help improve muscle recovery after workouts
Can provide temporary relief of minor aches and pains, especially associated with muscle soreness from working out
Like other forms of massage, HydroMassage can help reduce your stress and anxiety
HydroMassage can promote deep relaxation and provide a sense and feeling of well-being
Like other forms of massage, HydroMassage can help increases circulation in local areas where massaged
HydroMassage can relieve muscle soreness, stiffness, and tension
Is HydroMassage good for back pain?
HydroMassage is not intended to treat serious back pain. HydroMassage's warm water massage can help loosen stiff muscles and minor back ailments. If you have back pain or a known back condition please consult with a physician before using HydroMassage.
How does HydroMassage work?
HydroMassage uses warm water and pressurized jets to help alleviate sore and tense muscles. Using special fabrics and coverings, you get the benefits of a water based massage without getting wet!